The quiet summer continues and June only produced a couple of mildly interesting photos.
静かな夏が続いて六月はちょっと面白い写真を二枚作りました.
Back In My Day, We All Had Joysticks
I recently purchased the latest version of my favorite video game of all time, Tekken, for my PC. After playing it the first time, something seemed to be missing. I was using my regular game controller, similar to a PlayStation or Xbox, where my thumbs did most of the work. I found this unsatisfying and I longed for the arcade-style joysticks of my youth.
最近Tekkenという一番好きなビデオゲームの新しいパソコンのバージョンを買いました. 初めてしったらちょっと楽しくなかったです. 親指がほとんど動くのPlayStationやXboxのようなゲームコントローラーを使いました。 これが満足しなくて子供時のアケードのジョイスティックは懐かしくなりました。
These days, however, few companies still produce joysticks. Those that do focus on the highly competitive player market, and the prices are surprisingly high.
このごろジョイスティックを作る会社があまりありません。 非常に競争のプレーヤーだけに売っていて値段がとても高いです。
After much surfing, I managed to find a reasonably-priced joystick. It works with the game, mostly. There are some problems, like the fact that the game menus work only with the keyboard. I also have to get the joystick to work with Linux as well. So there is still some work ahead of me.
インターネットのサーフィングをたくさんしったら安いジョイスティックを見つけました。 ゲームとほとんど大丈夫です。 でもゲームのメニューとダメのような問題があります。 今までLinuxと使えません。 だからもっと頑張っています。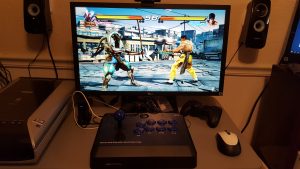 I'm Looking at the Big Sky
I probably shouldn't be shooting while driving, but this sky was really pretty.
車を運転しながら撮るのがダメけどこの空は美しかったです。