December is the month for getting loot and in this month's blog entry I got some good loot to talk about.
十二月はプレゼントの月ですね. この更新は私がもらったいいプレゼントについて書きました.
Switch It On Again
I've had many game consoles in my life but I have never really been interested in Nintendo products. I prefer to buy the most powerful computer equipment I can afford, and Nintendo's strategy as always been to use weaker, less expensive components. But late this year, the new Nintendo Switch caught my eye. It is both a home console that you hook up to a TV as well as a portable game device with it's own screen. The controllers are interesting too. They can be used in tandem like a modern joystick or separately as simple controllers or waved around like the Wii or Kinect.
テレビゲームのコンソルがたくさんあるごとがあるけどNintendoに興味があまりありませんでした. 買えるかぎりに一番強いパソコンをいつも買ってNintendoは安くて弱い機械を作っています. でもNintendoのSwitchは面白いいです.テレビに付いているコンソルとモバイルです. コントローラーも面白いです. モダンのコントローラーのように二つのSwitchのコントローラーが使えてべつに二つの簡単なコントローラーが使えてWiiかKinectのように振れます.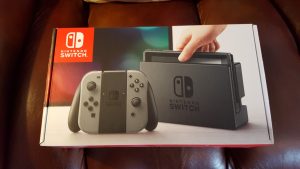 In addition, the latest Legend of Zelda game has been getting stellar reviews. All of this convinced me to ask Santa for a Switch for Christmas.
そして新しいゼルダというゲームは大絶賛があります. それからサナタサンにSwitchをおねがいをすることがしました.
So far, the system has been really entertaining. The Zelda game is fantastic and I played it obsessively during the holidays. I have not yet taken advantage of the system's portability, but that may change if any of my coworkers buy Switches and want to play competitively at work.
今までシステムは素晴らしいです. ゼルダは素敵で休み時にせずにはいられません. モバイルの機能まで使いません. でも同僚はSwitchを買って仕事で競争がしたければモバイルの機能を使います.
Not Your Ordinary Dough
I also got some bread for Christmas. I know what you are thinking, "What kind of Christmas present is bread?" If it is from the Zingerman's Deli in Ann Arbor, then it is an excellent one! Zingerman's makes the best bread I have ever eaten, and it stays remarkably fresh even after the shipping process. A few minutes in the oven and it is as good as new. My friends sent my favorites, farm bread, rye, sourdough, and pecan raisin.
パンもクリスマスによってもらいました. [パンはどうなクリスマスプレゼントですか]と聞いていますか? Ann ArborのZingerman'sというデリだったらいいプレゼントですよ! Zingerman'sは一番美味しいパンを焼いて配達の後もなまに残ります. おーべんのなかにあ戦ったから数文新新しくなります. 友達は一番好きなファームパンとピーカンレーズンパン、サンフランシスコ系サワードウ、ユダヤ系ライ麦パンを送りました.